John Neville Cohen and 'Painting with Light'
John Neville Cohen's pictures add a new bright dimension to any wall. So sophisticated, original, very different and contemporary, always a talking point, they intrigue, yet remain intelligible to all.
"Art Galleries refer to me as a photographer, but photographers refer to me as an Artist! I use pure photography to express ideas, or thoughts, rather than reality. I trust that my pictures will intrigue, cause interest and be appreciated, as these original pictures really make quite a statement!"
Limited to editions of only 8, his pictures have great investment potential too! Not yet one of the big names, but Arts Review mentioned Picasso when describing John's 'Spirit of Spring' and the exhibitions to date are impressive. Now is the best time for astute buyers to buy, considering just how very special John's photography is.
Over 20 One-Man Exhibitions
2 held in New York, 4 in London, The Edinburgh Festival, many other UK and USA Cities
Favourable reviews and comments have been received from, amongst others: -
Cecil Beaton C.B.E., Sir William Russell Flint R.A., Lady Clementine Spencer-Churchill.

"regarded as one of Britain's most original photographers." The Times.
"A woman's face was exquisitely metamorphosed with the cup of a yellow tulip - a Femme - Fleur
Picasso might have perpetrated had he taken to photography." Arts Revue.
John invented his own unique form of 'Painting with Light' photography (a very different and original 'special effect' technique), without using any computer, darkroom chemicals, or expensive equipment to create his unique top international award winning transparencies.
His technique is pure photography on film and has nothing to do with moving lights to make light graffiti, or of lighting specific parts of a scene during a long exposure. What it does involve is the photographing of projected images that surprisingly are not often projected on to a screen!
He found that the projector really lives up to its earlier known name - 'The Magic Lantern', as what he can do with projectors, for photography, really is magical!
One of his best known pictures was titled 'Spirit of Spring', this was the first ever picture taken on Kodachrome (transparency film) that included both a negative of a tulip and a positive image of a girl's portrait, all on the same emulsion! This photograph won The London Salon Trophy in 1967; it was then the first time a colour picture was deemed worthy of this much-coveted trophy, for it had only ever been awarded before for Black and White studies. John was also the youngest member to have won it.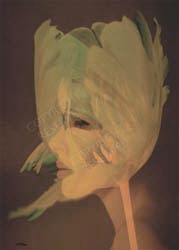 Spirit of Spring
No one knew at the time, how this transparency could be achieved, as it was created well before anyone had the use of computers.
His discovered technique sometimes involved; projecting his image through a crystal, through coloured cellophane, or reflecting the projected image off various reflective surfaces, the image projected could be a negative (colour or black and white) and he even used three, or four projectors (with careful masking) all together at times.
The chosen screen often became the subject of the picture; John has photographed projected images on to a shell, a flower, a feather and a butterfly wing, even the edges of the pages of a book!
There have been over 20 One-Man Exhibitions of John's photography (many were sponsored by Kodak) at some impressive venues in Europe and the USA. His pictures have stood up to the test of time and still intrigue and are considered exceptional, so now they have just become available for sale as limited edition pictures.
Art Galleries refer to John as a 'photographer', but photographers refer to John as an 'Artist'.
John explained that he starts with an idea and then experiments with various images, but sometimes something unforeseen happened, that sends him down a totally fresh route to create a very different picture than was originally planned, it is these 'inspired accidents' that have since turned out to be his very best works.
"Indeed, since the photographic image is made by the action of light, truth to light is truth to the medium of photography! All John Cohen's photographs are made, simply and solely, by the use of light. His magic is the magic of the luminous, his poetry is that of the chiaroscuro. The attractions of his work is all the greater for the purity of the photographic technique, and its appeal all the more universal for being couched in an imagery common to all men and intelligible to all."
Sir George F. Pollock Bt., M.A., F.R.P.S., F.R.S.A.
His freely available article titled 'The Magic Lantern' fully describes and explains exactly how anyone and everyone can do it. These special effects have certain qualities that are a little different from those achievable by digital manipulation.
To find out much more about the colour choices available of John's pictures
please see his website
http://www.artist-john-cohen.net